Kyle Klitzke, Owner
Kyle Klitzke was born and raised in Shreveport, LA where he graduated from Parkway High School in 1998. After high school, he attended Louisiana Tech University, where, in 2002, he graduated Summa Cum Laude with a Bachelor of Science degree in Chemical Engineering. After graduation, he worked for Georgia Pacific Paper Company as a Process Engineer and began pursuing his MBA from Auburn University.
Kyle has always had the dream of being an entrepreneur and that goal was achieved in 2005 when he acquired Tri-Care Home Medical, a medical equipment company and pharmacy. Since 2005, he has started and sold MedNurse, a nurse staffing company, sold the medical equipment division of Tri-Care, started and sold SanoCare, a wound care company, and started Community Pharmacy.
Kyle believes that treating every customer as family and investing in the most up to date technology has allowed Community Pharmacy to provide the best service possible to our customers. Community Pharmacy is not your normal pharmacy. We care and it shows! Now, his goal is to expand and open multiple locations of Community Pharmacy in order to provide superior pharmacy service to residents all over north-east Louisiana.
Kyle is married to Erin Melton Klitzke and they have two beautiful daughters, Amelia and Hannah, two female puppies and a female cat. So, to say the least, he is out numbered at the pharmacy and at home! Kyle is on the advisory board of Marion State Bank and serves as a deacon at North Monroe Baptist Church, where he has a passion for retreat ministry. When Kyle is not working, he enjoys being with his family, duck and elk hunting, traveling, working in his yard, and spending time on his tractor.
Erin Melton Klitzke, PharmD, Owner
Erin Klitzke, daughter of Dr. and Mrs. Glen Melton, was born and raised in Bastrop, La. Erin is married to Kyle Klitzke, a Shreveport native, and they are blessed with two beautiful daughters, Amelia and Hannah.
Erin and Kyle are residents of Monroe and are active members of North Monroe Baptist Church. Erin graduated from Ouachita Christian School in 1998. She then began pursuing her dream of one day becoming a pharmacist. She attended LouisianaTech University from 1998-2000 where she completed her pre-pharmacy curriculum. At Tech, Erin was a member of Alpha Chi Omega sorority and very involved with Baptist Collegiate Ministries (BCM). In fall 2000, Erin was accepted into the College of Pharmacy at University of Louisiana at Monroe (ULM), where she earned her PharmD in 2005.
Erin and Kyle became business owners in 2005, and together they enjoy serving their community. Outside of pharmacy, Erin enjoys spending time with family, hosting friends in their home, and traveling.
Mandy Jones, PharmD
Mandy Jones was born and raised in the Monroe area. She is married to Ben Jones, and they are the proud parents of three sons, Brooks, Shepard, and Barrett. Mandy and Ben currently reside in the Sterlington area and are active members of North Monroe Baptist Church.
Mandy is a graduate of Ouachita Christian School, class of 2001. She decided early on to pursue a career in pharmacy, and graduated from the University of Louisiana Monroe College of Pharmacy in May of 2007.
After a brief tenure at Walmart, she worked for Fred's Inc. for eleven years as both a staff pharmacist and pharmacy manager. She was excited to call Community Pharmacy home starting in December of 2018. In her spare time, she enjoys traveling, spending time with family and friends, and watching her boys play sports.
Lauren Warner, PharmD
Lauren was born and raised in Monroe, LA and is the daughter of Joe and Marcy Kern. She graduated from Neville High School and upon graduation decided to follow in her father's footsteps and become a pharmacist.
She obtained her degree from the University of Louisiana at Monroe and was an active member of Kappa Epsilon fraternity. Lauren has been a pharmacist for over 15 years working for both independent and chain pharmacies. She spent majority of her career working for Wal-Mart in various positions such as Pharmacy Manager, Clinical Services Manager, and Interim Pharmacy District Manager.
After working throughout Louisiana she is excited to be coming back home and serving the community she grew up in.
She is married to Keith Warner and they have two wonderful children, Addison and Nicholas, and spends most of her time cheering them on and being their biggest fan.
Wendy Crow, RPh
Wendy Crow was born and raised in Monroe, Louisiana. She graduated from St. Frederick High School and ULM School of Pharmacy. She brings over twenty years of pharmacy retail experience and has always had a special place in her heart for supporting independent pharmacies as well as local businesses. Customer care is her top priority and she is looking forward to serving you at Community Pharmacy.
Wendy is married to Bud Crow. She has three beautiful daughters, one dog, and one granddog. During her free time, she enjoys reading, traveling and watching football. GEAUX SAINTS!
Priscilla Mayo, CPhT
Priscilla joined the Community Pharmacy team in February of 2017. Although new to our team, she is not new to pharmacy. She has been a Certified Pharmacy Technician for 20 years, and began her pharmacy career as a pharmacy clerk the year before her certification. Priscilla has trained extensively in Medication Therapy Management to assist the pharmacists in helping to ensure patient understanding and adherence to their medications. She is knowledgeable about Medicare Part D and eager to help our patients make the best insurance selection based on their specific prescribed medications.
Priscilla is married to Jason Mayo, and together they have 2 children and 2 grandchildren. In her free time, she loves spending time with her family, hunting with her husband, tending to their flower beds and anything to do with the outdoors.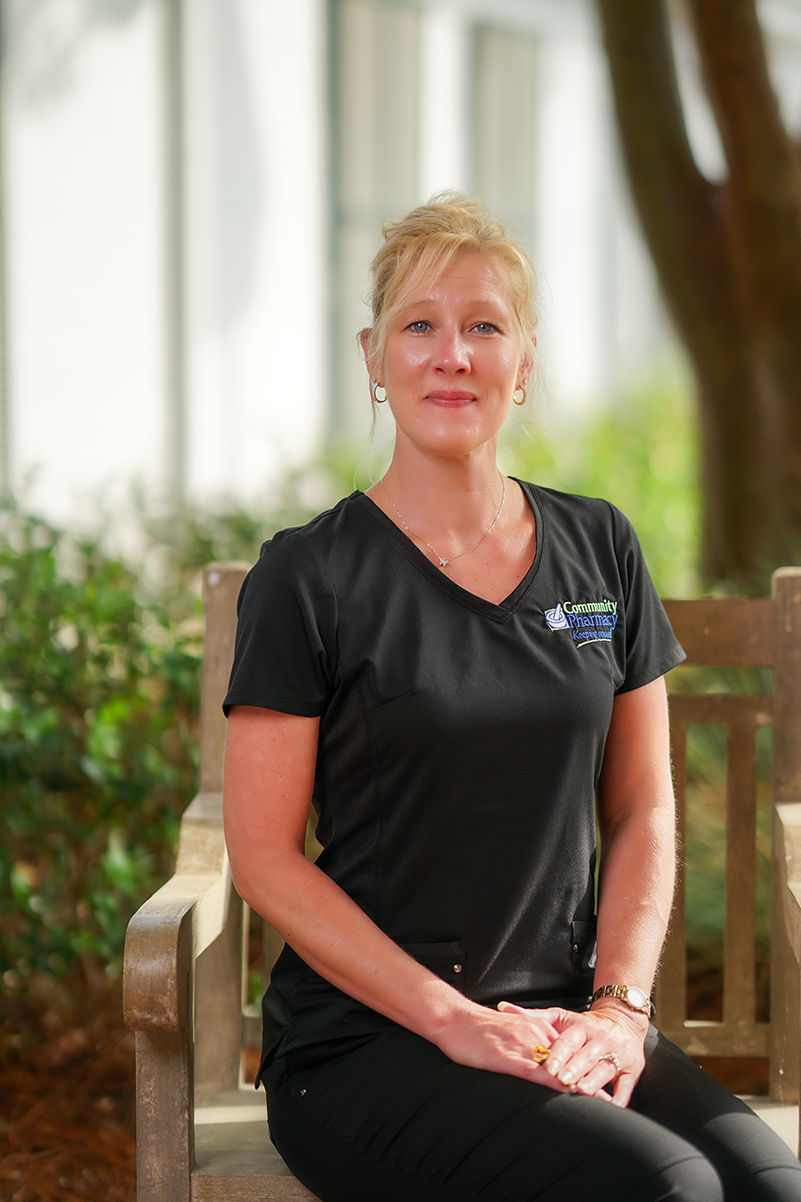 Mandy Orr, CPhT
Mandy Orr is a Certified Pharmacy Technician with over 20 years of pharmacy experience. Mandy has worked not only in independent retail pharmacies, but also in hospital and long term care specialties. She was the first tech hired at Community Pharmacy in 2011 and she has been extremely versatile in adapting to a number of changes and company growth.
Mandy is married to Mark Orr. They have one daughter and 2 dogs. Outside of work, Mandy enjoys spending time with her family and tending her flowers.
Kayla S. Sanford, CPhT
Kayla S. Sanford, CPhT, is a lifelong resident of Monroe and is a 2006 graduate of Ouachita Parish High School. Kayla received her state of Louisiana and national pharmacy technician certifications in 2011. She joined Community Pharmacy in 2013. Kayla has experience in specialty pharmacy, compounding, and intravenous therapy. She is eager to learn the latest in pharmacology to apply those skills to her practices. Kayla desires to not only be an asset to her Community Pharmacy family, but to her patients as well.
Kayla loves living in "Sportsman's Paradise"! In her leisure time, she enjoys anything outdoors and spending time with her family. Her favorite activities include kayaking, fishing, camping, and hunting!
Lori Hair, CPhT
Lori is a long time West Monroe resident. She received her state of Louisiana and national pharmacy technician certifications in 2012. She recently joined Community Pharmacy in September 2019. She is always eager to help with anything that needs to be done.
Lori is a mom of three beautiful children, Hunter, Skylar and Ariana. She is a member of Walnut Grove Southern Methodist Church. She enjoys spending time with her family and friends.
Dewanna Lacy, Pharmacy Clerk
Dewanna is a West Monroe native and a graduate of West Monroe High School. She has worked at Community Pharmacy since 2004, where she performs a multitude of tasks. The most important highlight of her job is putting smiles on her customers faces even when they are not feeling their best by giving them remarkable customer service.
Dewanna has 3 children and 3 grandchildren. In her spare time, she enjoys spending time with her family, interior decorating and attending church.
David Williamson, Medication Delivery
David is a lifelong West Monroe resident. He began working as Community Pharmacy's delivery driver in 2013, after retiring as a truck driver for over 35 years and making deliveries all over the country. He and his wife enjoy the fact that he gets to be home every night now. David gets enjoyment from knowing that he is helping people get their medications when they are just too sick to get out and come to the pharmacy.
David has 3 adult children and 3 grandchildren. He gets to work with one of his daughters, Mandy Orr, who is a pharmacy technician at Community Pharmacy. In his free time, David enjoys fishing, singing, and working around his new house.
2123 Forsythe Avenue
Monroe, Louisiana 71201
200 Scott Drive
Sterlington, LA 71280
Phone: (318) 667-0197
Fax: (318) 667-0190
Copyright 2023 Community Pharmacy